Here is a new Market Research report on ALD Equipment
from TMR forecasting a continued increase in sales of ALD equipment. This is consistent with other reporting from VLSI Research, Gartner and ASM International. However, this report also claim that export control, lack of ALD experts, and slow dep rate may limit growth. Just returning from ALD 2016 Ireland and the Industry Panel we had there - I do not see that a lack of ALD professionals may be an issue - but who knows maybe that´s the case - so it would be very interesting to know others view on this.
"The absence of skilled human resource and the slow deposition rate of ALD equipment are also likely to curb growth to some extent."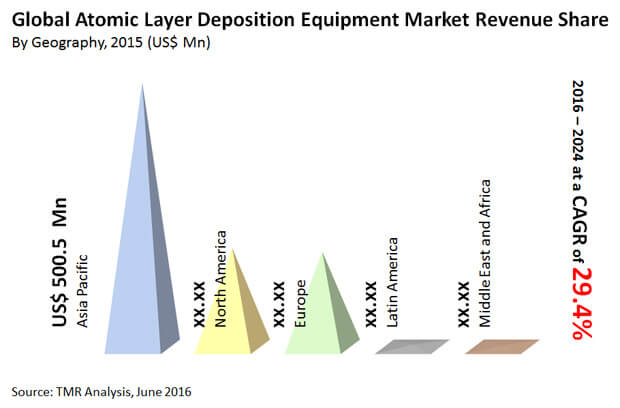 The presence of a large number of international and local companies is boosting competition in the
global atomic layer deposition (ALD) equipment market
. As per a new study by Transparency Market Research (TMR), the competition prevailing in the market is expected to intensify further between 2016 and 2024. As of 2015, ASM International N.V., Applied Materials, Inc., and Tokyo Electron Ltd. cumulatively held a share of 58.9% in the global market. Of these, ASM International N.V. emerged as the top player, accounting for over 28% of the global ALD equipment market in 2015. Rivalry among key players in terms of product development and technology and product upgrades is expected to intensify during the forecast period.
"Due to the recent advancements in the atomic layer deposition technology, the use of ALD equipment has considerably increased in the nanotechnology sector," says a lead analyst at TMR. TMR expects applications of ALD equipment as manipulation and fabrication tools in nanotechnology to rise further in the short term. "Growing concerns pertaining to carbon emissions have accelerated investment in the R&D of photovoltaics. Due to the increasing research and development activities, the use of ALD as a PV manufacturing method has substantially expanded," adds the analyst. This rising demand for photovoltaic cells, combined with rapid advancements witnessed in PV technology, will subsequently augment sales of ALD equipment in the forthcoming years.