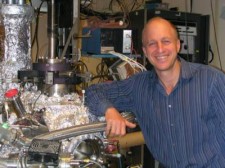 "Our ongoing research focuses on solving difficult materials problems associated with emerging semiconductor technology," said Professor Kummel. "Financial and technical support from RASIRC aids our efforts to create new films and passivation layers for continuous shrinkage of semiconductor devices."
As part of the agreement, RASIRC provides BRUTE® Peroxide and BRUTE Hydrazine materials for experimentation. The UCSD team produced and published significant findings from these materials during the previous year of research. Chemists and engineers from both organizations regularly collaborate on research and share their findings. Research covers
passivation
of
SiGe
channel materials and development of new low temperature deposition methods for metal nitrides.
"Universities play a critical role in chemical and materials research behind advances in the semiconductor industry as shown by the results produced and published by UCSD over the past year," said Daniel Alvarez, RASIRC Chief Technology Officer. "UCSD is a great partner and we look forward to working with the team to perfect novel new chemistries that solve very difficult problems where traditional methods do not work."
Professor
Kummel's
group is focused on understanding and imaging chemical processing at the atomic level. Current projects include (1) In-situ cleaning and
functionalization
of
SiGe
, Ge, and
InGaAs
semiconductors for defect-free interfaces on
FinFET
sidewalls and contacts; (2) Selective etching and ALD on semiconductors and insulators; (3) Non-Covalent
Functionalization
of two-dimensional semiconductors; (4)
Nano
-scale synthesis of silica
nanoshells
for tumor ultrasound imaging and ablation. Additional detail on the
Kummel
Research Group can be found at
http://kummelgroup.ucsd.edu
.