AZONano reports
: Scientists from
Hokkaido University
are currently analyzing the development of solar cells made of solid materials in order to enhance their ability to survive in harsh environmental conditions.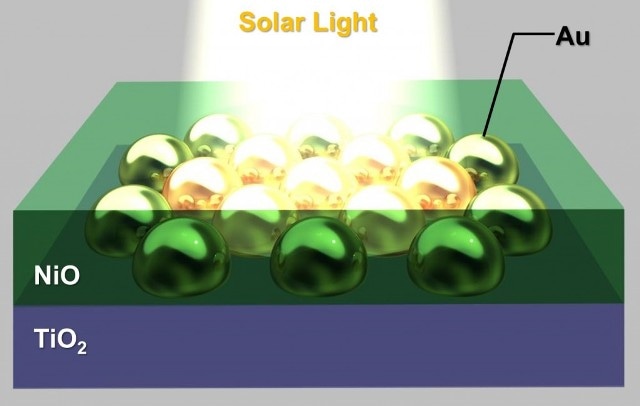 A solid-state solar cell composed of titanium dioxide, nickel oxide, and gold nanoparticles. Gold nanoparticles harvest light and provide a visible light response to the cell. Copyright: Tomoya OSHIKIRI, Hokkaido University
Properties of Plasmon-Induced Photoelectric Conversion on a TiO2/NiO p–n Junction with Au Nanoparticles
Keisuke Nakamura, Tomoya Oshikiri, Kosei Ueno, Yongming Wang, Yoshiomi Kamata, Yuki Kotake, and Hiroaki Misawa
†Research Institute for Electronic Science and ‡Creative Research Institution, Hokkaido University, N21, W10, CRIS Building, Kita-ku, Sapporo 001-0021, Japan
§ Department of Applied Chemistry & Institute of Molecular Science, National Chiao Tung University, 1001 Ta Hsueh R., Hsinchu 30010, Taiwan
J. Phys. Chem. Lett., 2016, 7 (6), pp 1004–1009
DOI: 10.1021/acs.jpclett.6b00291
Abstract

We have successfully fabricated all-solid-state plasmonic photoelectric conversion devices composed of titanium dioxide (TiO2)/nickel oxide (NiO) p–n junctions with gold nanoparticles (Au-NPs) as prototype devices for a plasmonic solar cell. The characteristics of the crystal structures and the photoelectric properties of the all-solid-state devices were demonstrated. We observed that the crystalline structure of the NiO thin film and the interfacial structure of TiO2/Au-NPs/NiO changed significantly during an annealing treatment. Furthermore, the photoelectric conversion devices exhibited plasmon-induced photocurrent generation in the visible-wavelength region. The photocurrent may result from plasmon-induced charge separation. The photoelectric conversion properties via plasmon-induced charge separation were strongly correlated with the morphology of the TiO2/Au-NPs/NiO interface. The long-term stability of the plasmonic photoelectric conversion device was found to be very high because a stable photocurrent was observed even after irradiation for 3 days.