As reported by
Electronics Weekly
: Ikea's venture capital arm has invested in a French firm developing and manufacturing 3D LEDs. Grenoble-based Aledia is developing LEDs for lighting based a gallium-nitride-on-silicon technology.
Two years after it began phasing out incandescent bulbs, Swedish retailer Ikea announced that it is taking another step and planning to sell only energy-efficient LED lighting by 2016.
Ikea believes there is this low-price LED lighting technology for residential use has the potential of faster implementation of the LED technology, leading to savings for customers.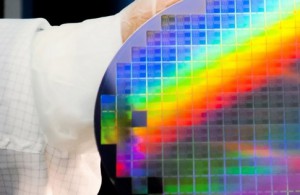 Christian Ehrenborg, managing director of Ikea GreenTech AB, said:
"This technology will be one important part in the IKEA Group strategy to supply high-quality, energy-saving lighting products to consumers worldwide."
Christian Ehrenborg,

Bald guy.
Aledia
received the investment from IKEA as part of a €28.4m funding round.
"This financing round, abundantly oversubscribed and particularly the presence of two very large potential corporate customers, testifies to the interest that our cost-disruptive nanowire LED technology is generating in the customer base, as well as in the financial community," said Giorgio Anania, CEO, chairman and co-founder of Aledia.
Aledia is developing LEDs that are manufactured on 200mm diameter GaN-on-silicon wafers to keep cost down.
Anania said:
"We are progressing with the development of the technology and this financing round will allow us to accelerate significantly the speed of development and the customer traction. In Valeo we have a major potential customer in the automotive LED market, generally viewed as the most profitable market segment. Simultaneously with the investment, we have signed a supply agreement with Valeo."
The technology was originally developed by CEA-Leti
Fundamental Differences in Planar and 3D LEDs
Conventional LEDs are planar, two-dimensional (2D) devices that emit light from a thin material layer at or near their flat surfaces. They typically are made by depositing multiple layers of various materials, each having different thermal expansion and crystal lattice constants, on small wafers with diameters between 2 inches and 6 inches. The vast majority of LEDs are made of GaN and indium gallium nitride (InGaN) material. Depositing high-quality layers of these materials requires the GaN to be grown on substrate wafers that are made of expensive materials such as sapphire, silicon carbide or gallium nitride, as these materials are closely matched to GaN in terms of thermal expansion coefficient and crystal lattice parameters. Building planar GaN LEDs on larger and less expensive wafers made of silicon – a material that is very different from GaN in terms of thermal expansion and crystal lattice constant – is being tried, but to date this approach has shown only moderate cost savings while often incurring high defect densities, lower performance and lower yields. These factors contribute to the high costs of today's LEDs.
In contrast, Aledia's WireLED product technology uses economical silicon wafers with diameters of 8 inches (200 mm) or larger. On each wafer, millions of vertical microwires or microrods of GaN are grown, each with a diameter of less than 1 micron. Each microwire is an LED, capable of emitting light from all sides.
Standard Technology - 2D (Planar) LEDs:
• Small, expensive substrate
• Slow MOCVD growth process (high capital expenditure)
• High materials consumption
• LED-specific manufacturing plants
• Light emission area = at most the 2D area
• Single color on one wafer
3D (Microwire) LEDs:
• Large, economical substrate
• Fast MOCVD growth process (low capital expenditure)
• Low materials consumption
• Existing high-volume silicon wafer fabs
• Light emission area = up to 3X the 2D area = more light/mm2 or less current density, less efficiency droop
• Multiple colors on one wafer or even on one chip