Dr. Florian Schön from Robert Bosch GmbH will present "ALD applications in MEMS manufacturing" at the EFDS ALD for Industry workshop in Dresden 17-18th of January 2017. MEMS (MicroElectroMechanical Systems; Microsystems) are micrometer-scale, semiconductor-based components that combine e.g. electrical, mechanical, and optical functions. They are present in our everyday electronics in products such as hard disk read heads, inkjet printer nozzles, microphone and videoprojector chips, and airbag controls, tire pressure monitoring, and driving stability systems in cars. [
Picosun, BALD Engineering
]
According to the MEMS market is lead by "MEMS Titan" Robert Bosch (Yole Développment Aug 2016) followed by STMicroelectronics and Texas Instruments.
According to the
Yole Status of the MEMS Industry 2016 Report
the compound CAGR from 2015-2021 for the value of MEMS markets will be 8.9%, moving from $11.9B to $20B. Over the same period the CAGR of units shipped will be 13%.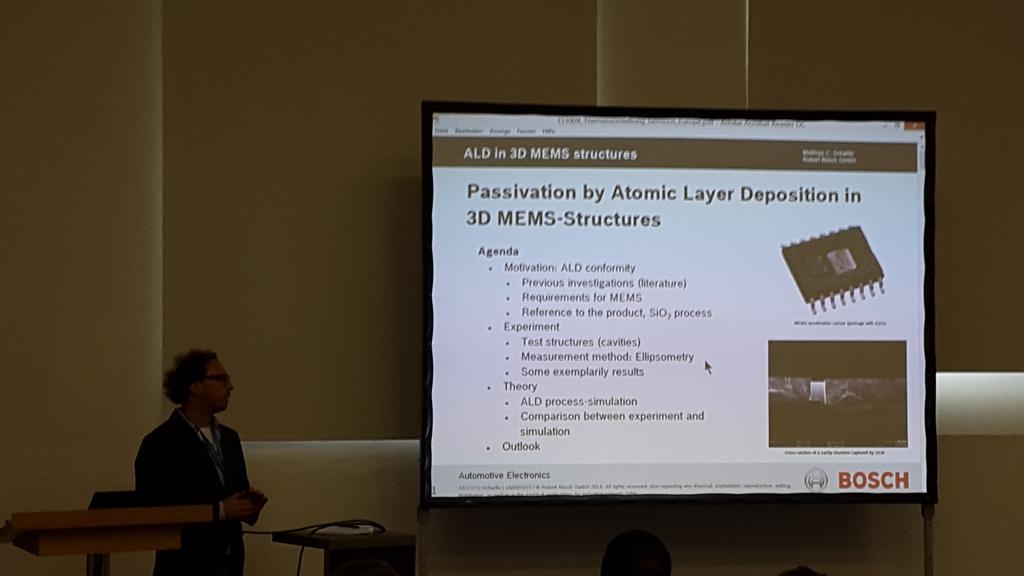 Passivation of MEMS by Atomic Layer Deposition,
Matthias Schwille, Robert Bosch (ALD Lab Dresden Symposium, SEMICON Europa 2015)
After Robert Bosch, Dr. Tero Pilvi from Picosun Oy., Finland will give a talk very much related to MEMS "ALD and 3D coatings" Last year Mr. Timo Malinen, CTO of Picosun had tis to say about their ALD MEMS offering "Our MEMS customers gain immense benefits from our SEMI S2 certified
PICOPLATFORM™
cluster technology. Equipped with our production-proven
PICOSUN™ P-series
batch ALD tools, these cluster systems have already proven their worth at the manufacturing sites of leading, global microsystems industries. Considering the MEMS market growth forecasts, propelled by the coming era of the Internet-of-Things, this product line will definitely be one of the cornerstones of our industrial ALD business".