Entegris, Inc. reported Q3 2023 revenue of $888 million, an 11% decrease YoY and 1% sequentially. GAAP net income was $33.2 million ($0.22 per share), including expenses like goodwill impairment and integration costs. Non-GAAP net income was $103.6 million ($0.68 per share). Q4 2023 sales are expected to be down around 2% sequentially, with GAAP EPS of $0.25-$0.30 and non-GAAP EPS of $0.55-$0.60. Customer interest is rising in Entegris' comprehensive solutions and collaborative materials development capabilities, particularly in materials like molybdenum. These solutions lead to faster development and speedier product launches, positioning Entegris as an innovation and growth partner.
Entegris, Inc. reported its third-quarter financial results for 2023, with revenue totaling $888 million, reflecting an 11% decrease compared to the same quarter in the previous year and a 1% sequential decrease. The company's GAAP net income for the third quarter was $33.2 million, resulting in earnings per diluted share of $0.22. These figures included various expenses, such as goodwill impairment, amortization of intangible assets, integration costs related to an acquisition, and other net costs. On a non-GAAP basis, the company achieved a net income of $103.6 million, with non-GAAP diluted earnings per share of $0.68.
For the fourth quarter of 2023, the company expects sales to be down approximately 2% sequentially, with a range of $770 million to $790 million in sales and diluted earnings per common share between $0.25 and $0.30 on a GAAP basis, while non-GAAP earnings per share are expected to range from $0.55 to $0.60.
Entegris operates in three segments: Materials Solutions (MS), Microcontamination Control (MC), and Advanced Materials Handling (AMH), catering to the semiconductor and high-tech industries. The company held a conference call to discuss its results on November 2, 2023.
Entegris is experiencing rising customer interest in their comprehensive solutions and collaborative capabilities for materials development, such as molybdenum. Customers appreciate the benefits, such as faster development and improved speed, resulting in quicker product launches. This positions Entegris as a valuable partner in their customers' innovation and growth endeavors.
Switching to molybdenum (Mo) in semiconductor manufacturing for 2 nm affects multiple processes. Mo offers conductivity without needing barrier layers and is cost-effective, but its corrosion risk requires adapting steps like deposition and etching. For chemical mechanical planarization (CMP), slurries and pads must be refined to protect Mo, with lower oxidizer concentrations and customized pad designs. Word line etching, particularly for 3D NAND, faces challenges with conventional etchants and cleans, necessitating specialized etchants that prevent residue. High-purity materials and rigorous filtration are essential for yield, with in situ monitoring and multiple-stage filtration to minimize contamination. Transitioning to Mo demands a comprehensive approach to select chemicals, pads, and filters to optimize the process and yield. Close collaboration with suppliers that provide integrated solutions can smooth the transition, as using a single supplier can expedite material compatibility testing and streamline the switch.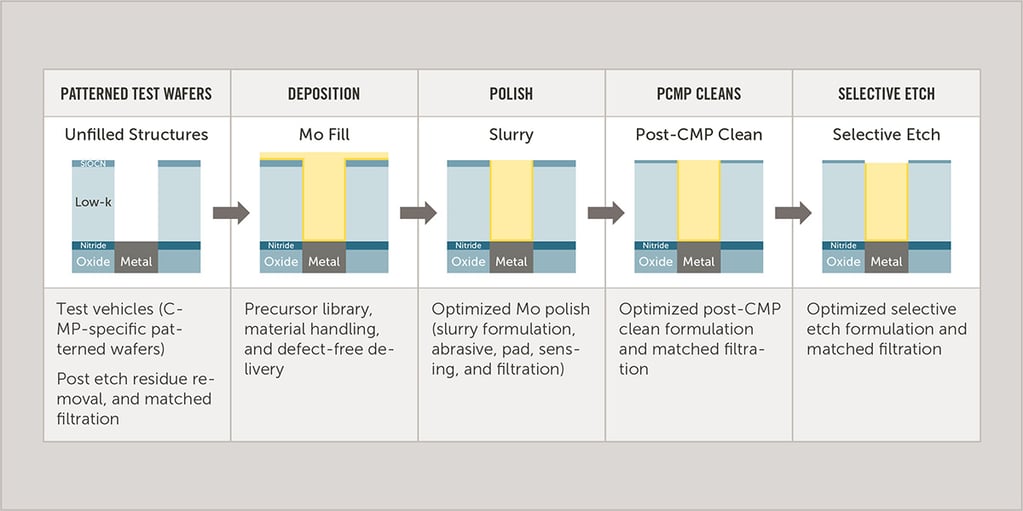 Source - Entegris.com
The memory market presents a mixed scenario. DRAM has shown anticipated improvement, but 3D NAND remains subdued, with declining wafer starts in Q3 and no significant recovery expected in Q4. These conditions align with previous industry forecasts. Looking ahead to 2024, specific details are not yet available, but there is an expectation of increased wafer starts. More precise information will be provided in the Q4 earnings report in February, as it's currently too early to offer comprehensive insights into the upcoming year's market dynamics.
In the current year, the company has observed that all node transitions in the logic sector have occurred according to schedule, which has had a positive impact on its business performance, notably in Taiwan during the third quarter. However, within the memory segment, the company had previously forecasted delays and a lack of transitions in 3D NAND, and these expectations have been met. The initial anticipation was for many customers to adopt 200-plus layer architectures by the year's end, but this transition has not materialized as predicted. The company is now looking forward to the possibility of high-volume production at 200 layers or more in early 2024, marking a revised timeline for this development.
Sources:
Entegris, Inc. (ENTG) Q3 2023 Earnings Call Transcript | Seeking Alpha
New Materials: Smoothing the Transition to Molybdenum (entegris.com)
Migrating to Molybdenum: Comprehensive IC Solutions to Streamline the Transition (entegris.com)