Some time ago MPI Halle, Germany, produced
super strong spider web by coating it with ALD (Mato Knez et al)
. At that time the research seemed like a peculiar thing. Now however, Swedish researchers from SLU and Karoliska can mass produce synthetic spider silk at high rate and in large quantities. So all you have to do now is to integrate an ALD reactor into the machine below ...
Full story from SLU :
LINK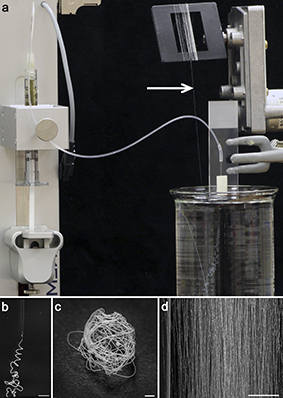 Biomimetic spinning of artificial spider silk (figure above used with permision, SLU)
Fiber diameter in (b-c) is approximately 40 micrometre and in (d) 15 micrometre. Scale bar in (a) 3cm, (b) 3 mm, and (c-d) 5 mm.
Formation of a continuous as-spun solid fiber of artificial spider silk in an acidic aqueous buffer collection bath [embedded Youtube : Published by: Anna Rising & Jan Johansson (Swedish University of Agricultural Sciences & Karolinska Institutet, Sweden)]